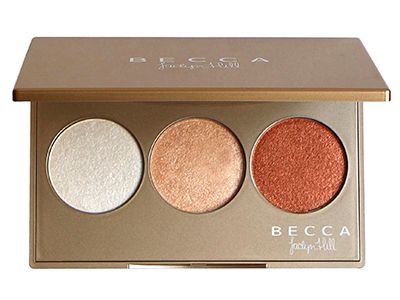 I find that the palette resembles the Balm's Manizer Sisters Luminizing palette that was recently released last August and I had been eyeing it ever since.
I haven't tested any of highlighters from both brands but there were lots of raves for both highlighters.
Champagne Pop, the middle peachy color, is the shade in the Becca Palette that has a cult following and is said to be universally flattering. According to Becca's makeup artist and style director, Kerry Cole, the peachy color is a mix of pink and yellow. When it's blended onto the skin, it neutralizes your skin's undertone and warms up your complexion.
Allure
tested out the color and confirmed that it was universally flattering. While many bloggers say that Champagne Pop is a must buy if you don't already have a Becca Shimmering Perfector Palette.
Interestingly the shade that started the craze for their highlighters is the champagne shade on the left called Mary-lou Manizer. There are many reviews and raves for this shade which attracted me to the brand. All three colors are triple-milled to ensure that the powder blends like silk on your face. The palette was designed to make traveling easy to give you highlights, shimmers, and shadows. The shades are also flattering on all skintones however most reviews said that the bronzy shade is not suitable for contouring since it's too shimmery for that purpose.
I thought that the bronzy color would look good on my lids while the peachy-pinky shade could either be used on top of my blush or as a rose gold eyeshadow. My favorite blogger, musings, said that the texture is like Stila's kitten so I think even the champagne color could work as a highlighter or eyeshadow. My reasoning for buying this over the singles is that every shade can multi-task and since I don't apply makeup on a daily basis, I won't need such a large amount of product. The trio would allow me to try out all the shades and the cardboard packaging is plus to minimize shattering.
Becca's Champagne Pop will hit sephora in november, retailing for $38. The Balm's Manizer Sisters is available at Kohls and online at their
website
for $28. Due to the price difference and the overwhelmingly positive reviews of the Manizer Sisters Palette online, I am waiting for a sale on the Balm website. I love how
Budget Beauty
outlined everything in terms of size, price, and comparison of the three different highlighter so that I don't have to pull out my calculator to compare the value of the palette.
I just don't know how the other two shades in the Champage Glow palette would look like. Lovefor lacquer has swatches of many top highlighter and swatched Mary-Lou Manizer and Champagne Pop side by side.
For those who have tried both products, Becca's Champagne Pop and the Balm's Mary-Lou Manizer, let me know what you think of them?
Which palette are you more tempted to buy?
comment and vote below
and thanks for reading